Overseas remittance
& financial services platform

Offer fast and reliable overseas remittance services and convenient comprehensive financial services.
Simple and fast Mobile Overseas Remittance
Account balance and
View transaction history
CoinShot Money Charging and payment (coming soon*)
Mobile Overseas Remittance
Licensed remittance company!
After Downloading the CoinShot App
1. Enter recipient information.
2. Just fill in the remittance form and it's done!
Send money overseas right away.
10 minutes processing time for remittance to the Philippines.
80-90% cheaper than banks.
Receiving method: Bank or Pick-up center
Remittance limit: 3,000,000 KRW/transaction, 5,000,000 KRW/day and 30,000,000 KRW/year

Support the largest number of fintech firms in 52 countries.
Philippines, Vietnam, Indonesia, Thailand, Nepal, China, India, Cambodia, Pakistan,
Bangladesh, Sri Lanka, Singapore, Malaysia, Australia, Mongolia and Hong Kong.
Uzbekistan, Kazakhstan, Kyrgyzstan, Tajikistan
Europe (Albania, Belgium, Bosnia-Herzegovina, Cyprus, Czech Republic, Denmark, Finland, France, Germany, Hungary, Ireland, Italy, Luxembourg, Malta, Monaco, Netherlands, Norway, Poland, Portugal, Romania, San Marino, Serbia, Kosovo, Slovakia, Slovenia, Spain, Sweden, Switzerland, Turkey, Britain, Russia)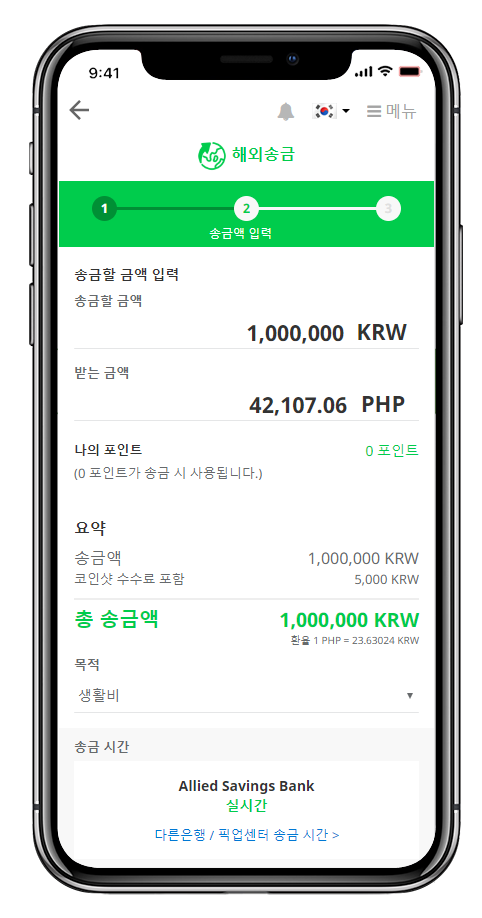 Check account transaction!
View bank account and transaction details conveniently.
Manage account in one page

Check bank transaction history (deposit / withdrawal)

Officially contracted with banks (Not scraped)